Joe's Pet Meds


Ratings & Reviews
Care To Give Us A Feedback?
Write a review here and let the world know what you think about our service, prices, product range or shipping.
If you would like to review a specific product then please search for the product you would like to review and place your review on that page instead.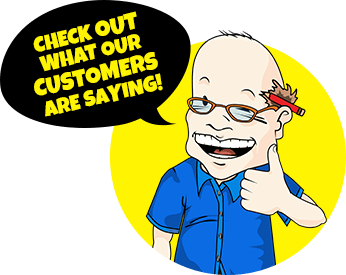 NexGard (afoxolaner) Chewables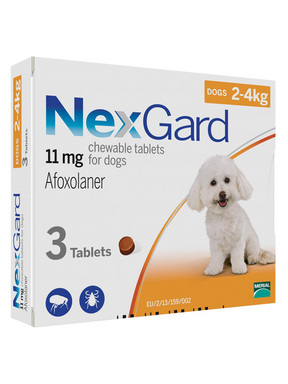 NexGard (afoxolaner) Chewables
From the makers of FRONTLINE Plus, the #1 choice of veterinarians
It is the first flea and tick killer in a beef-falavored chew
Tasty chewable approved to kill both fleas and ticks.
It kills adult fleas before they lay eggs.
NEXGARD is available in four sizes of beef-flavored soft chewables
Each chewable size is available in color-coded packages of 3 or 6 beef-flavored chewables.
Style Number: NEXGARD-CONFIG
Product Detail: NexGard (afoxolaner) Chewables
NexGard (afoxolaner) is FDA approved for veterinarian use, and demonstrated 100% effectiveness against adult fleas 24 hours post-infestation for 35 days. NEXGARD kills adult fleas and is indicated for the treatment and prevention of flea infestations (Ctenocephalides felis) , and the treatment and control of American Dog tick (Dermacentor variabilis) infestations in dogs and puppies 8 weeks of age and older, weighing 4 pounds of body weight or greater, for one month.

Warnings: Not for use in humans. Keep this and all drugs out of the reach of children. In case of accidental ingestion, contact a physician immediately.

Storage Information: Store at or below 30°C (86°F) with excursions permitted up to 40°C (104°F).

HUMAN WARNING: Not for use in humans. Keep this and all drugs out of the reach of children. In case of accidental ingestion, contact a physician immediately.

FRONTLINE VET LABS™A DIVISION OF MERIAL LIMITED.
---
---
NexGard (afoxolaner) Chewables
Ratings & Reviews
Based on
98
Review(s)
Most Recent Reviews
NexGard is a great product!
Written by
Cindy B
Nov 15, 2016
I have four dogs who use NexGard chewables faithfully monthly. All four love the taste and always get excited when they see the box. They know the great taste of the NexGard is coming their way and they think of it as a great treat. It does the trick to get rid of fleas and ticks here in the hot summer south and I will always use it. Try it you too will love it for your dogs to control fleas and ticks.
Great Product!
Written by
Saint Auggie
Nov 10, 2016
My Mother in law turned me on to this. We have 3 dogs, 2 are outside dogs, here in FL. We have tried every flea medication out there. None, with luck, just more fleas & the dogs were losing hair. They have been on this for 3 months now. The fleas are gone & all of our dogs coats are fully, shinier, healthier. I would recommend this product to everyone.
AMAZING
Written by
BURGER33
Oct 27, 2016
This product worked great. We live in FL & have 3 dogs. Fleas have been a nightmare for us for years. Our vet has tried so many other meds, but have failed to control the fleas. then I stumbled across this. Wow. Within 2 days, all 3 dogs were flea free. It last for about 26 to 28 days, so if you wait a full month to give them their next dose, they will have fleas again for a couple. I recommend this product to everyone now.
NexGard works for my dogs.
Written by
Ric
Sep 12, 2016
My dogs are ~ 11 years old and I've tried multiple products over the years. When my Vet suggested NexGard we tried it straight away. Both dogs act like it's a treat and snarf it right down. I've had no problems with ticks or fleas and I live in Florida! They have never gotten sick or experienced any issues with it's use. I highly recommend NexGard to anyone who loves their dogs.
NexGard
Written by
K Judson
Sep 11, 2016
I have been using Joes Pet Meds for years and love that I can order products for my dogs at a reasonable price, without having to go to the Vet and pay double. The one time I had a minor issue of not receiving product, they were quick to rectify the situation and credited my card so that i could go back on and purchase again. Great Company and will continue to use.
Great Product
Written by
Red Barn
Sep 02, 2016
I never find fleas on Maggie and when I find a tick, it is already dead.
NexGard
Written by
DEBBIE
Aug 19, 2016
I have 3 adult large breed dogs and 2 puppies we live near the beach and fleas are really an issue here. So the only thing that works here because of the moisture in the air is the NexGard. I am so glad I can cone to Joe's and get it with out having to go to the vet's office every time I need it and I save money too.
Only product that works for us!
Written by
Necole
Aug 16, 2016
We have used a countless number of flea control products in the past, and none of them worked. This in the ONLY product we found to work on our pups!!!
FABULOUS!!
Written by
Rob
Aug 04, 2016
I bought a home in the country and it came with 2 big dogs--a Black Lab and a German Shepherd--and both of them constantly run in the woods surrounding the home. I had given them a flea/tick treatment which goes between the shoulder blades, but they were still scratching and I saw ticks on them. A veterinarian recommended NexGard and the results were AMAZING!! Within ONE day, the dogs were no longer scratching and as I looked through their fur for ticks, the only ticks on them were dead. I have never seen a product work so wonderfully! I was on the Joe's Pet Meds website today to buy it for all of my dad's hunting hounds and he can't wait to try it. What a FABULOUS product--I recommend it to anyone!!! Thank you NexGard and thank you joespetmeds.com!!
Finally Its Easy To Say No To Fleas and Ticks
Written by
My Menagerie
Aug 02, 2016
My dogs both run and play in fields and woods with unfortunately a high population of ticks. We used drops on their backs for years, but hated that the medication sat on their skin, rubbing on us and our home. Plus the first few days they smelled and had an oil slick on their back. Now we have completely switched to Nexgard and love it. Same control-only dead ticks on them-from a simple treat they eat once a month. We love it and my dogs do too! Plus Joes Pet Meds is the best place to order from. Easy, quality, quick.