Joe's Pet Meds


Ratings & Reviews
Care To Give Us A Feedback?
Write a review here and let the world know what you think about our service, prices, product range or shipping.
If you would like to review a specific product then please search for the product you would like to review and place your review on that page instead.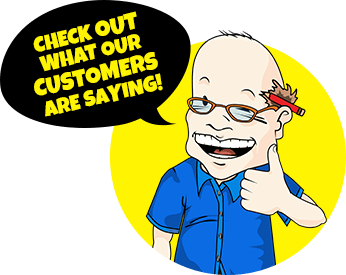 NexGard (afoxolaner) Chewables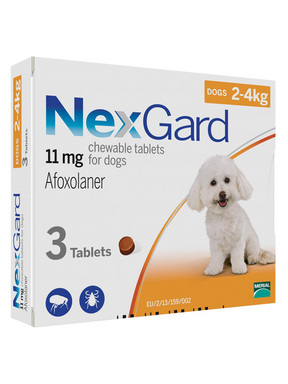 NexGard (afoxolaner) Chewables
From the makers of FRONTLINE Plus, the #1 choice of veterinarians
It is the first flea and tick killer in a beef-falavored chew
Tasty chewable approved to kill both fleas and ticks.
It kills adult fleas before they lay eggs.
NEXGARD is available in four sizes of beef-flavored soft chewables
Each chewable size is available in color-coded packages of 3 or 6 beef-flavored chewables.
Style Number: NEXGARD-CONFIG
Product Detail: NexGard (afoxolaner) Chewables
NexGard (afoxolaner) is FDA approved for veterinarian use, and demonstrated 100% effectiveness against adult fleas 24 hours post-infestation for 35 days. NEXGARD kills adult fleas and is indicated for the treatment and prevention of flea infestations (Ctenocephalides felis) , and the treatment and control of American Dog tick (Dermacentor variabilis) infestations in dogs and puppies 8 weeks of age and older, weighing 4 pounds of body weight or greater, for one month.

Warnings: Not for use in humans. Keep this and all drugs out of the reach of children. In case of accidental ingestion, contact a physician immediately.

Storage Information: Store at or below 30°C (86°F) with excursions permitted up to 40°C (104°F).

HUMAN WARNING: Not for use in humans. Keep this and all drugs out of the reach of children. In case of accidental ingestion, contact a physician immediately.

FRONTLINE VET LABS™A DIVISION OF MERIAL LIMITED.
---
---
NexGard (afoxolaner) Chewables
Ratings & Reviews
Based on
98
Review(s)
Most Recent Reviews
jturk5525@bellsouth.net
Written by
jt
Apr 07, 2017
We love camping, fishing, kyacking with our dog, Jake. So it is very important to have a product that kills ticks as well as fleas. Nexgard is the best we have found. If we do find a tick on Jake it is already dead. Wish they made this product for humans too!
Great product!
Written by
Katie B.
Apr 03, 2017
I have been giving this to my Golden for years. She loves it and takes it like a treat. I love how it tastes good to her and also prevents both fleas and ticks. I would recommend this product to anyone!
StacyJ2012@yahoo.com
Written by
OCEANDVRS
Apr 01, 2017
Love this product and so does my dog. No more messy stuff on her back. She thinks it's a treat!
Easy peezie and mess free
Written by
Brenna B
Mar 30, 2017
Nexguard is so simply to use. No more nasty oily residue on the pets back,and dogs love the flavor. Love keeping my dogs bug free and not having to deal with the side effects. Joe's PetMeds have the best price around and always fast and dependable shipping.
So Easy To Use
Written by
Jessica Bock
Mar 22, 2017
This is such a great product and so easy to use. With other products, I've had to try to time baths with applications, which was tricky with a dog who has skin issues and needs daily baths. This product works, is easy to administer, and certainly makes life easier.
missmarly@outlook.com
Written by
Marly
Mar 10, 2017
Product works great!!!
This product works
Written by
Cathy S.
Mar 09, 2017
This product is so much easier to use than Frontline was. My dogs love the chewable. They think they are treats! So it makes giving them their meds much more pleasant. And the product definitely keeps the fleas and ticks away!
Product is good
Written by
Jenaia L
Mar 08, 2017
Product is good! I've been using this for my 3 babies for awhile. however, this is my first time ordering from Joespetmeds. my only complaint is that from the time of order to the receipt of order is a long time.. like 3-4 weeks! my dogs ended up being late on their flea/tick control this month because it took so long to get the product.
awesome product
Written by
fiona
Mar 03, 2017
I'm a groomer and have recommended this to all of my clients that have a flea problem. Best feedback I got was a client that told me that within 30 mins of giving this to her dog she actually saw the fleas fall off!! I have 6 dogs and for the first time they all got fleas. I bathed them, treated them, cleaned their bedding but still couldn't get rid of the fleas. I gave them all NexGard and fleas were gone!! Can't say enough good things about this product.
Best flea and tick control
Written by
Phillip
Mar 02, 2017
Great not having to apply some chemical to my dog's coat and hope that he can't lick it. Dog eats Nexgard like its a treat.