Joe's Pet Meds


Ratings & Reviews
Care To Give Us A Feedback?
Write a review here and let the world know what you think about our service, prices, product range or shipping.
If you would like to review a specific product then please search for the product you would like to review and place your review on that page instead.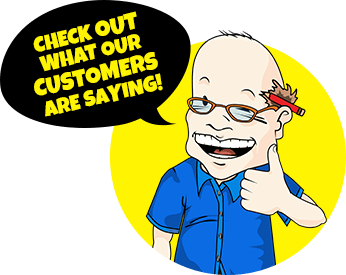 NexGard (afoxolaner) Chewables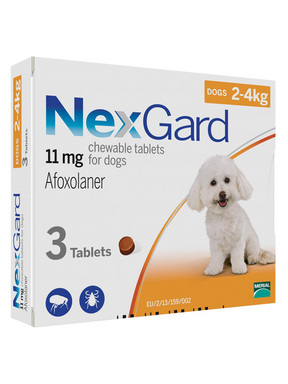 NexGard (afoxolaner) Chewables
From the makers of FRONTLINE Plus, the #1 choice of veterinarians
It is the first flea and tick killer in a beef-falavored chew
Tasty chewable approved to kill both fleas and ticks.
It kills adult fleas before they lay eggs.
NEXGARD is available in four sizes of beef-flavored soft chewables
Each chewable size is available in color-coded packages of 3 or 6 beef-flavored chewables.
Style Number: NEXGARD-CONFIG
Product Detail: NexGard (afoxolaner) Chewables
NexGard (afoxolaner) is FDA approved for veterinarian use, and demonstrated 100% effectiveness against adult fleas 24 hours post-infestation for 35 days. NEXGARD kills adult fleas and is indicated for the treatment and prevention of flea infestations (Ctenocephalides felis) , and the treatment and control of American Dog tick (Dermacentor variabilis) infestations in dogs and puppies 8 weeks of age and older, weighing 4 pounds of body weight or greater, for one month.

Warnings: Not for use in humans. Keep this and all drugs out of the reach of children. In case of accidental ingestion, contact a physician immediately.

Storage Information: Store at or below 30°C (86°F) with excursions permitted up to 40°C (104°F).

HUMAN WARNING: Not for use in humans. Keep this and all drugs out of the reach of children. In case of accidental ingestion, contact a physician immediately.

FRONTLINE VET LABS™A DIVISION OF MERIAL LIMITED.
---
---
NexGard (afoxolaner) Chewables
Ratings & Reviews
Based on
98
Review(s)
Most Recent Reviews
Bargain price
Written by
jnagra
Jul 19, 2016
Really great prices for the pet meds here. I have been buying here for last 5 years and have not found a better cheaper store.
Ain't know fleas on me!!!
Written by
ibtsuru
Jul 11, 2016
i use nexguard on my two pups!!! we walk the hills / open space a lot! l don't have a lot of fleas or ticks jumping off of my dogs! Nexguard works fast! quick shipping from Joes Pet Meds!!!! the best place to buy flea and tick meds!!!! thanks Joe!!
pinetreeocean@gmail.com
Written by
Dawn
Jun 22, 2016
Great Product, my bouvier easily chews it like a treat. Originally recommended by the vet, of course at a much higher price! Thanks JoesPetMeds
NexGard REview
Written by
Dauna M
Jun 18, 2016
Unbelieveable!! For months the fleas were winning. I gave my 4 dogs NexGard chewables and within hours the fleas were dying and dropping off. Nobody had any adverse reaction and my dogs are 8 yrs, 11 yrs, 12yrs, and 13 yrs old. Awesome product and Joe's prices are also awesome!
NexGard
Written by
Linderk
Jun 02, 2016
This is so simple to use and very effective. A lot neater too, no messy liquid to squeeze on the poor dog's neck and back. Love it!
NexGard
Written by
Gayla
May 30, 2016
Easy to use, all the dogs ate the medication well. It appears it worked well on all of them with the exception of one. I am definitely trying this medication again. Joes pet med website is easy to use, delivery service excellent.
Helped treat demodex mange!
Written by
Christine
May 24, 2016
My dogs loves this... no fleas or ticks and best of all it helped with one of mine who had a severe reaction to fleas that caused him to lose fur. It also helped treat a rescue with mange... who now also has new fur growth and is healing up better and fast than anything else we've tried.
Best Product For My Dogs
Written by
Lady T
May 14, 2016
Nexgard works very well for my dogs. I would recommend anyone whose pets are having tick and flea problems to use this product. :-)
Best Flea Med Ever!
Written by
Shannon Bowman
May 04, 2016
Ive tried everything! Spending 100's of dollars having my yard sprayed. Ordering every medicine you can imagine then I found nexgard. Will never use anything else ever! Never seen one flea after the first use.
Nexguard
Written by
Mpetros
May 03, 2016
I've been using Nexgard for 2 years now. I've never found a flea or tick on any of my 6 dogs. I like Nexgard compared to the other flea and tick options due to the fact I don't have to worry about bathing them 3 days before or after. I have active animals who are always needing a bath. To them it's like a treat!!