Joe's Pet Meds


Ratings & Reviews
Care To Give Us A Feedback?
Write a review here and let the world know what you think about our service, prices, product range or shipping.
If you would like to review a specific product then please search for the product you would like to review and place your review on that page instead.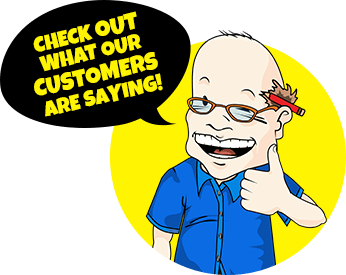 NexGard (afoxolaner) Chewables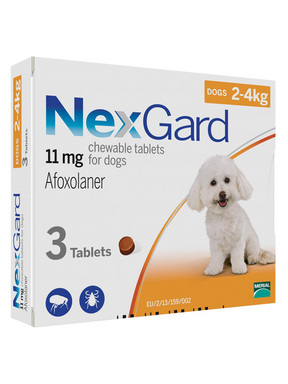 NexGard (afoxolaner) Chewables
From the makers of FRONTLINE Plus, the #1 choice of veterinarians
It is the first flea and tick killer in a beef-falavored chew
Tasty chewable approved to kill both fleas and ticks.
It kills adult fleas before they lay eggs.
NEXGARD is available in four sizes of beef-flavored soft chewables
Each chewable size is available in color-coded packages of 3 or 6 beef-flavored chewables.
Style Number: NEXGARD-CONFIG
Product Detail: NexGard (afoxolaner) Chewables
NexGard
NexGard (afoxolaner) is FDA-approved for veterinarian use and demonstrated 100% effectiveness against adult fleas 24 hours post-infestation for 35 days. NexGard rapidly kills adult fleas and is indicated for the treatment and prevention of flea (Ctenocephalides spp.) infestations, for the control of newly acquired adult fleas, and for the control of Flea Allergy Dermatitis (FAD). Following administration, fleas are killed within 6-8 hours. Rapid onset of action kills newly acquired fleas before they can lay eggs.
How NexGard works
Effective flea control with NexGard prevents flea tapeworm infestation in dogs. Nexgard treats and controls Paralysis ticks (Ixodes holocyclus), Brown Dog ticks (Rhipicephalus sanguineus), treatment and control of American Dog tick (Dermacentor variabilis), and Bush ticks (Haemaphysalis longicornis) for one month. NexGard provides effective control of pre-existing Paralysis tick infestations within 24 hours. Ixodes holocyclus ticks do not occur in Western Australia.
NexGard treats and controls demodectic mange caused by Demodex spp., sarcoptic mange caused by Sarcoptes scabiei, and ear mite (Otodectes cynotis) infestations.
What is the active ingredient of NexGard?
Active ingredient:
How can NexGard be administered to dogs?
NexGard is a soft, highly palatable chewable and is readily consumed by dogs when offered as a treat. Alternatively, NexGard may be added intact to a small amount of dog food. Care should be taken that the dog consumes the complete dose, and treated dogs should be observed for a few minutes to ensure that part of the dose is not lost or rejected. If it is suspected that any of the dose has been lost, treat again with another full dose.
The recommended dosage is 2.5 mg per kg bodyweight:
Dog Weight (kg) Chewable size (g) Afoxolaner (mg/chew)
2-4 0.5 11.3
4.1-10 1.25 28.3
10.1-25 3 68.0
25.1-50 6 136.0
For dogs over 50 kg, administer the appropriate combination of chewables.
For optimal performance, treat your dog on or about the same day each month.
Is NexGard safe for dogs?
NexGard was shown to be safe in various breeds of dogs and in puppies 8 weeks and older. NexGard may be administered in conjunction with gastrointestinal worm or heartworm treatments administered according to label directions. Afoxolaner is part of the isoxazoline family of chemicals. Adverse reactions to this family of chemicals are rarely observed but may include vomiting, diarrhoea, lethargy, inappetance, itching, and very rarely, seizures. Most adverse reactions are self-limiting and of short duration. If you have any concerns, please speak to your veterinarian.
---
---
NexGard (afoxolaner) Chewables
Ratings & Reviews
Based on
98
Review(s)
Most Recent Reviews
Lower price
Written by
Kimberly
Aug 18, 2015
Thanks Pet Shed!! I noticed the prices of NexGard dropped down! And feel so great for the mark down of prices. I always buy NexGard for my dogs. Joe's Pet Meds makes me save and now it makes me save more. Thank you so much!
Beef flavoured chews
Written by
Lohan
Aug 17, 2015
My dogs never say no to this meds. They love it. And they know when I gonna open a new pack. They think it's their monthly treat.
Beef flavoured chews
Written by
Lohan
Aug 17, 2015
My dogs never say no to this meds. They love it. And they know when I gonna open a new pack. They think it's their monthly treat.
NexGard Flea Control Review
Written by
Helen Dean
Aug 07, 2015
I love this product for my large German Shepherd. He is allergic to fleas and has to be fully protected all over. NexGard is a chewable and he loves it! It is also completely effective in protecting him- no more scratching all night! Great product and easy to administer.
NexGard
Written by
adobbs1967
Jul 08, 2015
Works great and the dogs love it!
Great product
Written by
Lauren M
Jun 07, 2015
This has worked wonders with our dog (Irish Setter, 75 pounds). We live in a heavily wooded area, and he was always covered in ticks. Since using this product, we have seen ZERO ticks on him. Highly recommended!!!
nexgard tryout
Written by
sandy
Apr 03, 2015
Tried nexgard and just love it. Joes pet meds was priced very reasonably and shipped in a timely manner.will recommend product and company. Thanks
Great product
Written by
Robin
Nov 20, 2014
My vet introduced me to NexGard over a year ago. I've been using it on my 3 dogs without any side effects or fleas or ticks! Now thanks to Joe's, I get it at almost half the price!