Joe's Pet Meds


Ratings & Reviews
Care To Give Us A Feedback?
Write a review here and let the world know what you think about our service, prices, product range or shipping.
If you would like to review a specific product then please search for the product you would like to review and place your review on that page instead.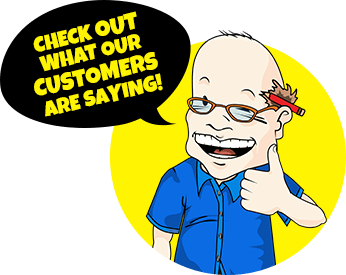 NexGard (afoxolaner) Chewables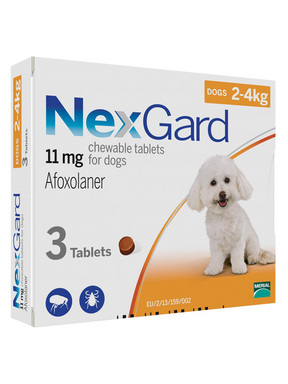 NexGard (afoxolaner) Chewables
From the makers of FRONTLINE Plus, the #1 choice of veterinarians
It is the first flea and tick killer in a beef-falavored chew
Tasty chewable approved to kill both fleas and ticks.
It kills adult fleas before they lay eggs.
NEXGARD is available in four sizes of beef-flavored soft chewables
Each chewable size is available in color-coded packages of 3 or 6 beef-flavored chewables.
Style Number: NEXGARD-CONFIG
Product Detail: NexGard (afoxolaner) Chewables
NexGard (afoxolaner) is FDA approved for veterinarian use, and demonstrated 100% effectiveness against adult fleas 24 hours post-infestation for 35 days. NEXGARD kills adult fleas and is indicated for the treatment and prevention of flea infestations (Ctenocephalides felis) , and the treatment and control of American Dog tick (Dermacentor variabilis) infestations in dogs and puppies 8 weeks of age and older, weighing 4 pounds of body weight or greater, for one month.

Warnings: Not for use in humans. Keep this and all drugs out of the reach of children. In case of accidental ingestion, contact a physician immediately.

Storage Information: Store at or below 30°C (86°F) with excursions permitted up to 40°C (104°F).

HUMAN WARNING: Not for use in humans. Keep this and all drugs out of the reach of children. In case of accidental ingestion, contact a physician immediately.

FRONTLINE VET LABS™A DIVISION OF MERIAL LIMITED.
---
---
NexGard (afoxolaner) Chewables
Ratings & Reviews
Based on
98
Review(s)
Most Recent Reviews
NexGard
Written by
DEBBIE
Apr 22, 2016
I have used this for 4 years and love it. We live at the beach and fleas are a real problem here but this is the only one that works. My Irish Setters are very grateful and so am I.
huntemilyscoupons@yahoo.com
Written by
HUNT
Apr 10, 2016
Works great at a great price. My dogs think its a treat! This is much less expensive than purchasing from the vet's office and equally convenient.
Nexgard for demodex
Written by
Rottluvr
Feb 23, 2016
I'm in rescue and we recently took in 2 puppies with demodex. (red mange) Until now there has been nothing that would stop this. Puppies and dogs had to be dipped in harsh chemicals and sometimes ivermectin would help. But, the dogs would have bouts of demodex the rest their lives. Our vet says that Nexgard is killing these mites. We have started these two little girls on Nexgard and hopefully we will not have to use the harsh chemicals on them. I am posting this review so those of you who are dealing with this can give the Nexgard a try. The vet said it is possible the mites may develop a resistance to the Nexgard. Only time will tell. But for now I am thrilled to have it available.
NexGuard for my dog
Written by
Amy
Dec 31, 2015
My 15 year old pit bull loves this!!! She is very picky of what she will eat, especially when it comes to medicines. She never hesitates when she has to take her NexGuard. Love it!!!
NexGard
Written by
Trish
Nov 11, 2015
NexGard was recommended by my Vet. I love it! No messy tubes or trying to get my dog to sit still to apply the liquid! My dog loves the chews!
Totally Different Dog
Written by
Sarah W
Nov 09, 2015
Our dog has struggled for the past few years with a horrible flea allergy. After trying many different treatments and her chewing herself the point of bleeding. One dose of this medicine and she stopped chewing and one month later just a totally different dog. She rest easier and does not stay up all night chewing at herself. I highly recommend this product and she will never go without it again. Sarah
works Great
Written by
joeyria
Oct 07, 2015
Nexgard works really well for all 3 of my dogs. It's easy to give (my dogs actually love the taste!} and I've never had any side effects. SOOO much more effective and less messy than the spot on treatments.
Great product, Great price
Written by
Kelsey
Sep 16, 2015
I really have enjoyed giving Nexgard to my 60lb shepard mix. I started noticing the effects after about a week. The only con for some people might be that this doesn't kill fleas on contact, they must bite your dog to ingest the "poison" and die, so I do still see the occasional live flea. But the information packet said that nexgard kills fleas before they have a chance to lay eggs, which has prevented my house from becoming infested. I also like the fact that it is not a topical treatment that my dog could potentially ingest. Overall great product, and great price.
LOVE IT!!!
Written by
Lbby
Aug 27, 2015
NexGard works when Front Line stopped working for my dog. Thanks to Joe's and there great prices! My dog had no reaction to this med either
Best ever
Written by
Jenine
Aug 21, 2015
I love it. I totally love everything about it! Starting from the price, authenticity of the products, and the fast delivery. Thank you Joe's Pet Meds!