Joe's Pet Meds


Ratings & Reviews
Care To Give Us A Feedback?
Write a review here and let the world know what you think about our service, prices, product range or shipping.
If you would like to review a specific product then please search for the product you would like to review and place your review on that page instead.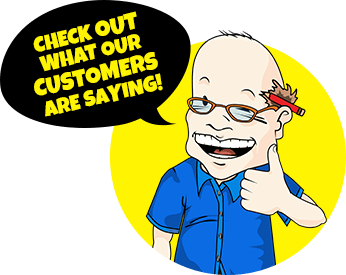 NexGard (afoxolaner) Chewables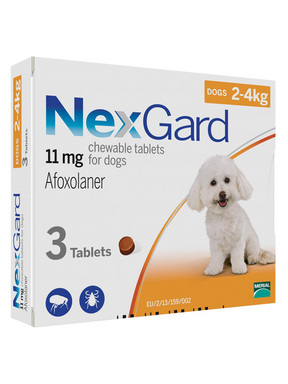 NexGard (afoxolaner) Chewables
From the makers of FRONTLINE Plus, the #1 choice of veterinarians
It is the first flea and tick killer in a beef-falavored chew
Tasty chewable approved to kill both fleas and ticks.
It kills adult fleas before they lay eggs.
NEXGARD is available in four sizes of beef-flavored soft chewables
Each chewable size is available in color-coded packages of 3 or 6 beef-flavored chewables.
Style Number: NEXGARD-CONFIG
Product Detail: NexGard (afoxolaner) Chewables
NexGard
NexGard (afoxolaner) is FDA-approved for veterinarian use and demonstrated 100% effectiveness against adult fleas 24 hours post-infestation for 35 days. NexGard rapidly kills adult fleas and is indicated for the treatment and prevention of flea (Ctenocephalides spp.) infestations, for the control of newly acquired adult fleas, and for the control of Flea Allergy Dermatitis (FAD). Following administration, fleas are killed within 6-8 hours. Rapid onset of action kills newly acquired fleas before they can lay eggs.
How NexGard works
Effective flea control with NexGard prevents flea tapeworm infestation in dogs. Nexgard treats and controls Paralysis ticks (Ixodes holocyclus), Brown Dog ticks (Rhipicephalus sanguineus), treatment and control of American Dog tick (Dermacentor variabilis), and Bush ticks (Haemaphysalis longicornis) for one month. NexGard provides effective control of pre-existing Paralysis tick infestations within 24 hours. Ixodes holocyclus ticks do not occur in Western Australia.
NexGard treats and controls demodectic mange caused by Demodex spp., sarcoptic mange caused by Sarcoptes scabiei, and ear mite (Otodectes cynotis) infestations.
What is the active ingredient of NexGard?
Active ingredient:
How can NexGard be administered to dogs?
NexGard is a soft, highly palatable chewable and is readily consumed by dogs when offered as a treat. Alternatively, NexGard may be added intact to a small amount of dog food. Care should be taken that the dog consumes the complete dose, and treated dogs should be observed for a few minutes to ensure that part of the dose is not lost or rejected. If it is suspected that any of the dose has been lost, treat again with another full dose.
The recommended dosage is 2.5 mg per kg bodyweight:
Dog Weight (kg) Chewable size (g) Afoxolaner (mg/chew)
2-4 0.5 11.3
4.1-10 1.25 28.3
10.1-25 3 68.0
25.1-50 6 136.0
For dogs over 50 kg, administer the appropriate combination of chewables.
For optimal performance, treat your dog on or about the same day each month.
Is NexGard safe for dogs?
NexGard was shown to be safe in various breeds of dogs and in puppies 8 weeks and older. NexGard may be administered in conjunction with gastrointestinal worm or heartworm treatments administered according to label directions. Afoxolaner is part of the isoxazoline family of chemicals. Adverse reactions to this family of chemicals are rarely observed but may include vomiting, diarrhoea, lethargy, inappetance, itching, and very rarely, seizures. Most adverse reactions are self-limiting and of short duration. If you have any concerns, please speak to your veterinarian.
---
---
NexGard (afoxolaner) Chewables
Ratings & Reviews
Based on
98
Review(s)
Most Recent Reviews
NexGard is excellent
Written by
Sharon S
Jan 22, 2018
This is an excellent product. My son's dog flew to live with us and got a flea infestation on the plane. Our others dogs were then infested even though we had been using a flea product for them. Our vet recommended NexGuard and the problem was resolved very quickly and effectively!!
NexGard Chewables
Written by
Cynthia
Dec 11, 2017
Have used this product for over 4 years and it seems to work extremely well. My Biewer Yorkshire Terrier loves the taste which is great as she tends to be finicky about food and treats. Have ordered several times from Joe's Pet Meds and always received products within stated time frame. Can't beat the discounted prices - much less than what veterinarians charge for same product.
The best price I've seen
Written by
Lena Soo Hoo
Nov 14, 2017
I'm so glad that I found Joe pet meds. I use to pay $120 for 6 pills now I safe around $55 dollars. Everytime before I had to find out what day and time when the clinic opens and at where cause they travel all the time. It was really inconvenient for me to get the pills. Now I don't have to go anywhere I just turn on my computer and type in Joe Pet Meds and order, pay and wait for the arrival which isn't that long. I am a happy customer
We Love Nexgard!
Written by
KHM
Oct 18, 2017
This is by far our favorite flea and tick control for our dog. We live in a wooded area and he was always coming home with ticks. We love that Nexgard kills the ticks pretty instantly, we even find dead ticks clinging to his fur so we know it works! Plus with the added flea protection it keeps him happy and healthy. Not to mention he actually likes the chew and takes it like a treat. Great product and Joes has the best price we've seen.
Bust a flea
Written by
Loretta Duffy
Oct 04, 2017
I have used Frontline on my dogs and have had excellent results. I am helping out an older widowed woman with her 2 dogs. She is on a fixed income and can not afford To take both of her dogs to the vet and get the meds. The topical flea medicine that she has been using has stopped working. So I want her to try nexguard. Thank you!
Nexgard for dogs
Written by
Jackie
Sep 20, 2017
NexGuard has done a great job at preventing infestation of fleas on my 3 dogs . They have not experienced any side affects. I would recommend this product.
Awesome Product
Written by
Shannon
Sep 20, 2017
i have been using this on our 3 large Yellow Labs for years. Of course, the vet's price is WAYYY steeper than Joe's and since finding Joe's I won't be going back to the vet for these. Thank you for great price and keeping my babies flea and tick free!
NexGard from Joe's Pet Meds
Written by
Christy Young
Aug 25, 2017
This stuff works great! I have tried many different types of flea medication and none work as good as NexGard. Thank you so much Joe's Pet Meds for offering this product at an affordable price and great service!!
Nexgard Chewables
Written by
DDSHARPE
Jul 12, 2017
I have tried several other type of flea and tick control pills and these seem to be the BEST. Sadie enjoys them as a special treat once a month. No problems with Nexgard.!
Amazing product at a low price!
Written by
Katie B.
Jul 11, 2017
I love this product and it is very effective in killing fleas and ticks. I have been using them with my three golden retrievers for years and they have NEVER had any fleas or ticks! Not to mention the price that Joe's Pet Meds offers is amazing! And there is no vet prescription required! I receive the meds in a timely manner, and cannot be happier with my purchase with pet meds on Joe's Pet Meds! I will always use their website for my all of my pet care needs!