Joe's Pet Meds


Ratings & Reviews
Care To Give Us A Feedback?
Write a review here and let the world know what you think about our service, prices, product range or shipping.
If you would like to review a specific product then please search for the product you would like to review and place your review on that page instead.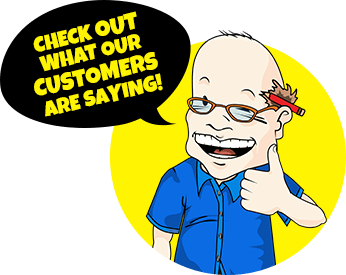 NexGard (afoxolaner) Chewables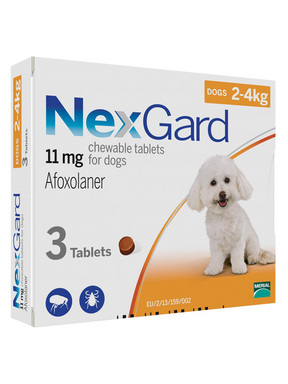 NexGard (afoxolaner) Chewables
From the makers of FRONTLINE Plus, the #1 choice of veterinarians
It is the first flea and tick killer in a beef-falavored chew
Tasty chewable approved to kill both fleas and ticks.
It kills adult fleas before they lay eggs.
NEXGARD is available in four sizes of beef-flavored soft chewables
Each chewable size is available in color-coded packages of 3 or 6 beef-flavored chewables.
Style Number: NEXGARD-CONFIG
Product Detail: NexGard (afoxolaner) Chewables
NexGard
NexGard (afoxolaner) is FDA-approved for veterinarian use and demonstrated 100% effectiveness against adult fleas 24 hours post-infestation for 35 days. NexGard rapidly kills adult fleas and is indicated for the treatment and prevention of flea (Ctenocephalides spp.) infestations, for the control of newly acquired adult fleas, and for the control of Flea Allergy Dermatitis (FAD). Following administration, fleas are killed within 6-8 hours. Rapid onset of action kills newly acquired fleas before they can lay eggs.
How NexGard works
Effective flea control with NexGard prevents flea tapeworm infestation in dogs. Nexgard treats and controls Paralysis ticks (Ixodes holocyclus), Brown Dog ticks (Rhipicephalus sanguineus), treatment and control of American Dog tick (Dermacentor variabilis), and Bush ticks (Haemaphysalis longicornis) for one month. NexGard provides effective control of pre-existing Paralysis tick infestations within 24 hours. Ixodes holocyclus ticks do not occur in Western Australia.
NexGard treats and controls demodectic mange caused by Demodex spp., sarcoptic mange caused by Sarcoptes scabiei, and ear mite (Otodectes cynotis) infestations.
What is the active ingredient of NexGard?
Active ingredient:
How can NexGard be administered to dogs?
NexGard is a soft, highly palatable chewable and is readily consumed by dogs when offered as a treat. Alternatively, NexGard may be added intact to a small amount of dog food. Care should be taken that the dog consumes the complete dose, and treated dogs should be observed for a few minutes to ensure that part of the dose is not lost or rejected. If it is suspected that any of the dose has been lost, treat again with another full dose.
The recommended dosage is 2.5 mg per kg bodyweight:
Dog Weight (kg) Chewable size (g) Afoxolaner (mg/chew)
2-4 0.5 11.3
4.1-10 1.25 28.3
10.1-25 3 68.0
25.1-50 6 136.0
For dogs over 50 kg, administer the appropriate combination of chewables.
For optimal performance, treat your dog on or about the same day each month.
Is NexGard safe for dogs?
NexGard was shown to be safe in various breeds of dogs and in puppies 8 weeks and older. NexGard may be administered in conjunction with gastrointestinal worm or heartworm treatments administered according to label directions. Afoxolaner is part of the isoxazoline family of chemicals. Adverse reactions to this family of chemicals are rarely observed but may include vomiting, diarrhoea, lethargy, inappetance, itching, and very rarely, seizures. Most adverse reactions are self-limiting and of short duration. If you have any concerns, please speak to your veterinarian.
---
---
NexGard (afoxolaner) Chewables
Ratings & Reviews
Based on
98
Review(s)
Most Recent Reviews
Nexgard is the best
Written by
Debi
Sep 18, 2018
I used several different products to control flea's from my pet's and home. Then I tried Nexgard it works really great. I never have a flea issue anymore. Thank you for offering it for such an incredible price. Much more affordable than from my vet's office. Thank's again !!!
wilsonbsw2@gmail.com
Written by
Sue
Aug 22, 2018
Llove this product, always got it from my vet at a much higher price. So happy a friend referred me to you all. Thanks for handling top products at a very reasonable price :)
Nexgard Kills Ticks
Written by
MayBaby32
Aug 22, 2018
We moved to Maine, which is basically tick heaven. Since being on this medication, my dog, Digby, has not brought one live tick into the house. (I wish the same could be said for me!) And buying it from Joe?s saves us a bundle too.
Great
Written by
Bjazzy
Aug 01, 2018
As soon as my puppy reached the minimum weight, we have her Nex Guard, because the veterinarian recommended it. My puppy loves it, gobbled it right down! No messy oils down her back, no struggling to get a pill down her throat! No fleas, or anything else.
NexGard Review
Written by
Teresa Flihan
Jul 04, 2018
Since giving NexGard to our two dogs they haven't had fleas or ticks. Previously they have had ticks occasionally. We're all very satisfied!!!
Works Great
Written by
Red Barn
May 29, 2018
When I find a tick on my 75 lb. dog, it is always dead.
Awesome meds
Written by
jennie hanner
May 22, 2018
This product is the best and so is Joe's Petmeds. I wouldn't shop anywhere else. Joe's Petmeds makes it so easy to get everything you need right from home. NexGard keeps my dogs free from fleas and ticks and they love the meat flavored chews.
nexguard
Written by
sherrie york
May 08, 2018
Really works well on my fur babies ,easy to give (chewable)yea!!
So much easier than pills or drops!
Written by
Nancy B
May 06, 2018
Worth every penny! Better control than drops on the skin that didn?t always protect my big outside dog. So much easier to give than the pills, which he would spit out and I?d have to force feed. He chews this right up and licks his chops after! Haven?t seen a flea or tick on him ever!
Best Flea Control
Written by
Regina
Feb 17, 2018
We took in a stray dog that was covered in fleas. We started using Nexgard to control them, and it's the best flea control PERIOD! We tried collars and topical stuff, but nothing seemed to work. Hands down best product. Joe's Pet Meds also has the BEST price for Nexgard. I will continue to shop here in the future!