Joe's Pet Meds


Ratings & Reviews
Care To Give Us A Feedback?
Write a review here and let the world know what you think about our service, prices, product range or shipping.
If you would like to review a specific product then please search for the product you would like to review and place your review on that page instead.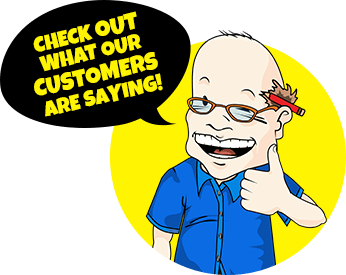 Revolution for Cats & Dogs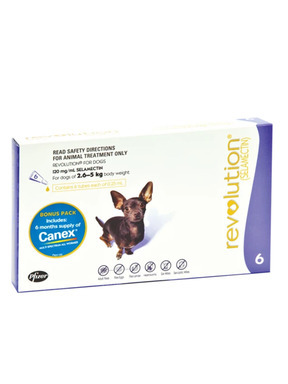 Revolution for Cats & Dogs
Kills adult fleas, flea eggs, and flea larvae in the environment. Treats, controls, and prevents flea infestations. Controls Flea Allergy Dermatitis (FAD).
For the prevention of heartworm disease (with monthly administration) caused by Dirofilaria Immitis.
For the treatment of ear mites (Otodectes Cynotis), adult roundworms (Toxocara Cati), adult intestinal hookworms (Ancylostoma Tubaeforme), and biting lice infestations caused by Felicola Subrostratus.
Revolution for cats doesn't come with Canex but is already formulated to fight against roundworms and hookworms in cats.
INCLUDES FREE CANEX WITH REVOLUTION FOR DOGS
Style Number: PFI02-CONFIG
Product Detail: Revolution for Cats & Dogs
Revolution for Cats & Dogs
Revolution is a safe and simple way to protect your pet from a range of common parasites. It prevents heartworm disease while treating and controlling fleas (including flea eggs and larvae) and ear mites in both cats and dogs, hookworms and roundworms in cats and sarcoptes mites in dogs. This effective medication is applied to the skin of your pet once a month.
How Revolution for Cats & Dogs works
After applying, Revolution is quickly absorbed into your pet's bloodstream, skin, and hair, killing fleas, heartworm, and other parasites that can harm your pet. Revolution will then protect your pet for an entire month. As Revolution moves into your pet's skin and hair, it goes straight to killing fleas, flea larvae, flea eggs, and other external parasites.
What is the active ingredient of Revolution for Cats & Dogs?
Active ingredient:
What is the proper administration of Revolution for Cats & Dogs?
Revolution Flea Control is a once-a-month topical application for dogs and cats. Application is quick and easy and the product should only be applied to a dry animal. The product is waterproof, therefore, normal bathing, swimming, etc. can continue after two hours.
The correct tube size should be selected for each animal and individual tubes should not be shared between several animals. The cap on the tube should be pushed downwards onto the tube until a "click" is heard and then the cap should be removed. The hair at the base of the neck should be parted to skin level and the entire contents of the tube squeezed onto this area. Do not rub in the liquid.
The concentration of the active ingredient in the Revolution for Dog and Revolution for Cat products is different so the correct package should be used for the correct breed as noted on the package label.
The doses and pack sizes are as follows:
Revolution for Cats
Puppies and kittens up to 2.5kg - pink pack
Cats up to 7.5kg - blue pack
Revolution for Dogs
Puppies and kittens up to 2.5kg - pink pack
Very small dogs 2.6-5kg - purple pack
Small dogs 5-10kg - brown pack
Medium dogs 10-20kg - red pack
Large dogs 20-40kg - teal pack
For dogs larger than 40kg - use the appropriate combination of sizes.
What are the precautions when using Revolution for Cats & Dogs?
Prior to the administration of Revolution, dogs should be tested for existing heartworm infections. At the discretion of the veterinarian, infected dogs should be treated to remove adult heartworms. Revolution is not effective against adult D. immitis and, while the number of circulating microfilariae may decrease following treatment, Revolution is not effective for microfilariae clearance.
Hypersensitivity reactions have not been observed in dogs with patent heartworm infections administered three times the recommended dose of Revolution. Higher doses were not tested.
---
---
Revolution for Cats & Dogs
Ratings & Reviews
Based on
310
Review(s)
Most Recent Reviews
Revolution Rocks!
Written by
J.Harris
Feb 13, 2018
For our 6 cats and 2 dogs, Revolution has proven to be the most reliable and consistent flea and tick med on the market. We've tried everything and this product actually stands up to its reputation. To ensure success, the trick is in the application; you MUST part the pet's hair and aim the liquid precisely on the skin or part line. We've told our vet about Joe's Pet Meds and why we'll continue to shop here rather than pay the vet price. Thank you!
New to site
Written by
Kay B
Jan 08, 2018
I teach Stained Glass at my shop and one of my students was talking about Revolution. I just adopted my sister's dog after she was killed. She is a wonderful sweet dog and I want the best for her in honor of my sis. I haven't had a dog in about 45 years and back then I don't remember anyone talking about Heartworms. I am very excited to find you site! Thank you, Jan for sharing this product and site with me! I already love you guys.
Revolution For Our Cats
Written by
Thinkingstardust
Nov 01, 2017
For some time our six indoor cats have been plagued with an infestation of ear mites. This caused them to constantly scratch their ears. One of the cats actually injured himself so severely we had to take him to the vet. To compound matters, the entire pride got infected with worms. We have tried several products to combat these problems, but none have worked as well as Revolution. This product did the trick. Our cats are very grateful! We will continue to buy it for them.
Revolution for cats
Written by
JOANNA BROWNING
Oct 15, 2017
This is the only flea medication I use and Joe's is the only place I buy it from. This flea control keeps my cats free of fleas and ticks all year long, no other product can do that. All of the other products require more doses to try and stop the fleas but that doesn't even work, I tried them all and wasted money but I stick with Revolution because I know it works.
Best price
Written by
mike anderson
Sep 24, 2017
top of the line treatment lowest price i could find, joe came highly recommended ( would love to win free cat toys for Lana. what I buy dont compare to a piece of trash on the floor to play with ;)
Dogs
Written by
Amy Wojcik
Sep 21, 2017
I love this product to works its cheaper than Trifexus and does the same thing. Keeps my dog healthy and i don't have to struggle with giving him a pill. Hes a shitzhu so I love him but he becomes a little part of his name lol when trying to get a pill down his throat. This STUFF I swear by it! ITs great!
Great Product, Great Price!
Written by
K. Sanders
Sep 07, 2017
Took 15 days for delivery. I expected and planned for 14 days LOL! so, its all good! The best product out there!
Great Prices!
Written by
Jenn
Aug 15, 2017
Joe's Pet Meds offers great products like Revolution for GREAT prices. Excellent products and customer service. Can't be beat!!
The BEST!
Written by
K. Sanders
Aug 07, 2017
I've used this product for 11 months. I did not apply it in December, thinking I could get away with not using it during the winter months when there were no ticks or mosquitoes. Big mistake! My cat went outside and sniffed around the base of the stairs and apparently one, or more of the nearby barn cats had come over and left a "deposit". About a week later, my cat was loaded with hookworms! It costs less $ to treat a cat with Revolution each month than taking them to the vet to get treated for worms.
Best Price for Premier Flea/Tick/Ear Mite Product
Written by
Jennifer Gardner
Jul 29, 2017
I have ordered Revolution for my cats through Joe's Pet Meds for over 10 years now, and I have always paid the lowest price for this product which is the real, sealed Revolution. I have continued to price shop and always order from Joe's Pet Meds with perfect results. I have referred many people who are also very satisfied with the price and product. Thanks Joe's Pet Meds! Note: I have always ordered under email jgard1@lsuhsc.edu but had to create a new account today because I couldn't reset the password due to an issue on my end.