Joe's Pet Meds


Ratings & Reviews
Care To Give Us A Feedback?
Write a review here and let the world know what you think about our service, prices, product range or shipping.
If you would like to review a specific product then please search for the product you would like to review and place your review on that page instead.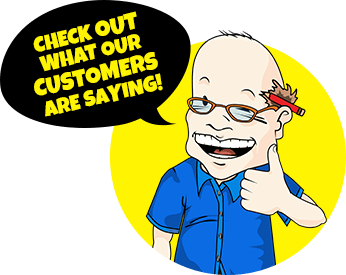 Revolution for Cats & Dogs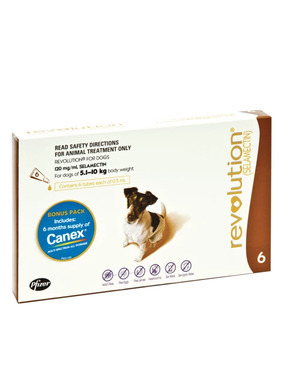 Revolution for Cats & Dogs
Kills adult fleas, flea eggs and flea larvae in the environment. Treats, controls and prevents flea infestations. Controls flea allergy dermatitis.
For the prevention of heartworm disease (with monthly administration) caused by Dirofilaria Immitis.
For the treatment of ear mites (Otodectes Cynotis), adult roundworms (Toxocara Cati), adult intestinal hookworms (Ancylostoma Tubaeforme), and biting lice infestations caused by Felicola Subrostratus.
Revolution for cats doesn't come with Canex but is already formulated to fight against roundworms and hookworms in cats.
INCLUDES FREE CANEX WITH REVOLUTION FOR DOGS
Style Number: PFI02-CONFIG
Product Detail: Revolution for Cats & Dogs
Manufactured by Zoetis Australia.
The indications for use are different between dogs and cats. Whilst treatment can begin from 6 weeks of age in both puppies and kittens, the parasites Revolution treats is different between the 2 species.
Revolution for Dogs
Revolution for Dogs is effective in preventing heartworm infection. It has a safety profile which extends over a large number of breeds and can be used in heartworm positive dogs. Revolution for Dogs also kills adult fleas and also flea larvae and eggs in contact with the treated animal and prevents affected flea eggs from hatching. Thus it is very effective in managing flea infestations. Revolution for Dogs will also treat and control sarcoptic mange and ear mites in dogs.
Revolution for Cats
Revolution for Cats is also used to prevent heartworm infection but cats should be tested by their veterinarian for heartworm prior to beginning treatment. Revolution for Cats will also kill adult fleas, flea larvae and eggs in contact with the treated animal and prevent affected eggs from hatching. Flea control is therefore managed well with this product. Revolution for Cats will also treat and control ear mites, roundworms and hookworms in cats.
Revolution is a safe and simple way to protect your pet from a range of common parasites. It prevents heartworm disease while treating and controlling fleas (including flea eggs and larvae) and ear mites in both cats and dogs, hookworms and roundworms in cats and sarcoptes mites in dogs. This effective medication is applied to the skin of your pet once a month.
Each tube contains: SELAMECTIN
Directions for use: Depress the cap to puncture the seal, then remove the cap. Part the hair on the back of the animal in front of the shoulder blades until the skin is visible. Place the tip of the tube on the skin and squeeze the tube to empty its entire contents directly on to the skin.
How to use Revolution Flea Control and Heartworm Preventative
Revolution Flea Control is a once-a-month topical application for dogs and cats. Application is quick and easy and the product should only be applied to a dry animal. The product is water-proof after 2 hours so normal bathing, swimming etc. can continue.
The correct tube size should be selected for each individual animal and individual tubes should not be shared between several animals. The cap on the tube should be pushed downwards onto the tube until a "click" is heard and then the cap should be removed. The hair at the base of the neck should be parted to skin level and the entire contents of the tube squeezed onto this area. Do not rub in the liquid.
Revolution Flea Control and Heartworm Preventative Pack Sizes
Revolution Flea Control comes in several sizes according to the size of the dog or cat which it treats. The appropriate size tube should be used for each animal being treated.
The concentration of active ingredient in the Revolution for Dog and Revolution for Cat products are different so the correct package should be used for the correct breed as noted on the package label.
The doses and pack sizes are as follows:
Revolution for Cats
Puppies and kittens up to 2.5kg - pink pack
Cats up to 7.5kg - blue pack
Revolution for Dogs
Puppies and kittens up to 2.5kg - pink pack
Very small dogs 2.6-5kg - purple pack
Small dogs 5-10kg - brown pack
Medium dogs 10-20kg - red pack
Large dogs 20-40kg - teal pack
For dogs larger than 40kg - use the appropriate combination of sizes.
Tips and Tricks for Using Revolution Flea Control and Heartworm Preventative
Most animals will tolerate the application of a spot-on topical treatment quite well. However if your pet is unco-operative, having another person assist can be of immense benefit. Having someone restrain the cat or dog will help. Another suggestion would be to offer the pet a dog treat or cat treat whilst applying the product. For dogs which tend to roll around after application of the product, taking the dog for a walk immediately after application can avoid this problem.
All animals need to be completely dry before applying Revolution Flea Control and Heartworm Preventative.
Many owners will find picking a date in the month which is significant for them to help them remember the treatment date. For example ensuring the dose is given on the 1st of every month can make remembering the due date easier. Owners could also place a note or sticker on the calendar on the due date to help remember.
Active Ingredients of Revolution Flea Control and Heartworm Preventative
Revolution for Dogs and Revolution for Cats contains the active ingredient Selamectin.
The concentration of Selamectin differs between the Revolution for Dog and Revolution for Cat products.
Contraindications and Warnings for Revolution Flea Control and Heartworm Preventative
Revolution Flea Control and Heartworm Preventative should not be administered to puppies or kittens less than 6 weeks of age.
Revolution Flea Control should only be used as directed by the manufacturer.
If poisoning occurs, contact the Poisons Information Centre.
This product is flammable and should be stored away from heat, naked flame or other ignition sources.
Wash hands after use.
---
---
Revolution for Cats & Dogs
Ratings & Reviews
Based on
308
Review(s)
Most Recent Reviews
revolution for cats
Written by
Laynell
Jul 21, 2018
Been using Revolution for 4 yrs. now for my cat ,works great , keeps her from scratching so much .
Great Stuff!
Written by
Lorree
Jul 20, 2018
I've used Revolution from Joe's for both my indoor cats and the dog for years. None of them have had a flea, ear mite, or worm problem and they all get excellent reviews at their annual checkups. (I'd know if there was a flea problem; I'm apparently biting insect dessert.) I particularly like the nearly full-spectrum parasite control that this medication provides. If it also eliminated tapeworms I'd be ecstatic since some of the cats don't like Pill Pockets and are savvy enough to recognize other pill-hiding methods. The procedure to ensure ingestion of generic Drontal tablets sometimes requires extensive time, effort, gymnastics, and the occasional payment in human blood. Joe's prices are excellent and the service has always been reliable.
works great!
Written by
Amy
Jul 07, 2018
I started getting this for my cat and it has done wonders for her flea control.
Great
Written by
Steve
Jun 07, 2018
I've been using Revolution on my 45lb English Springer for 5yrs. Every month he gets a dose that is sold for dogs in the 20 - 40lb range ( red box ) this is enough medication to keep him happy and l don't like the risk of over medicating so we're both happy.
Fast Service
Written by
Barb
May 31, 2018
Hi, I'm please to say I received my order of Revolution for cats in a matter of 10 days from time of placement of order to delivery. Joe's is perfect for our pet's needs and delivery for the 2 times we have ordered has been great!!!!!! Thank you for your fast service for the needs of our pets.
Service
Written by
Barb
May 15, 2018
Plan ahead for your produce if it take a little longer to receive. When you know you are going to be in need plan ahead to order. Be on top of your pet's needs and keep a record of the time they will be ready for refills and order ahead for the time it takes to receive the delivery.
Great price on Revolution
Written by
Bundeswehrvet
Apr 03, 2018
Can?t beat pricing on Revolution for our five cats from Joe?s Pet Meds. Very fast and reasonable shipping. Have shopped with Joe?s for over 8 happy years!
Works as advertised
Written by
Sandy
Mar 28, 2018
This is a great product. It does not do ticks, but fleas and heartworms are very well controlled and we have no adverse reactions to the medication.
Revolution Rocks!
Written by
J.Harris
Feb 13, 2018
For our 6 cats and 2 dogs, Revolution has proven to be the most reliable and consistent flea and tick med on the market. We've tried everything and this product actually stands up to its reputation. To ensure success, the trick is in the application; you MUST part the pet's hair and aim the liquid precisely on the skin or part line. We've told our vet about Joe's Pet Meds and why we'll continue to shop here rather than pay the vet price. Thank you!
New to site
Written by
Kay B
Jan 08, 2018
I teach Stained Glass at my shop and one of my students was talking about Revolution. I just adopted my sister's dog after she was killed. She is a wonderful sweet dog and I want the best for her in honor of my sis. I haven't had a dog in about 45 years and back then I don't remember anyone talking about Heartworms. I am very excited to find you site! Thank you, Jan for sharing this product and site with me! I already love you guys.