Joe's Pet Meds


Ratings & Reviews
Care To Give Us A Feedback?
Write a review here and let the world know what you think about our service, prices, product range or shipping.
If you would like to review a specific product then please search for the product you would like to review and place your review on that page instead.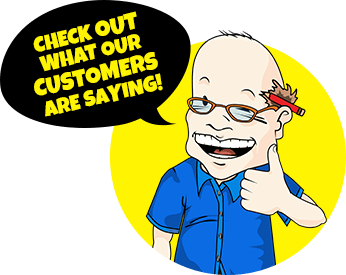 Stronghold for Cats & Dogs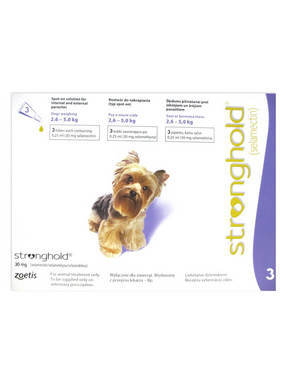 Stronghold for Cats & Dogs
Kills adult fleas, flea eggs and flea larvae in the environment. Treats, controls and prevents flea infestations. Controls flea allergy dermatitis.
For the prevention of heartworm disease (with monthly administration) caused by Dirofilaria Immitis.
For the treatment of ear mites (Otodectes Cynotis), adult roundworms (Toxocara Cati), adult intestinal hookworms (Ancylostoma Tubaeforme), and biting lice infestations caused by Felicola Subrostratus.
Style Number: STRO-CONFIG
Product Detail: Stronghold for Cats & Dogs
Manufactured by Zoetis UK Limited.
Dosage and Administration: Stronghold should be administered as a single application of a single dose delivering a minimum of 6 mg/kg selamectin. When concurrent infestations or infections in the same animal are to be treated, only one application of the recommended 6 mg/kg dose should be administered at any one time.
Fleas
For the treatment and prevention of flea infestations in dogs and cats, Stronghold should be administered at monthly intervals throughout the flea season, starting one month before fleas become active. Through a reduction in the flea population, monthly treatment of pregnant and lactating queens and bitches will aid prevention of infestations in the litter up to seven weeks of age. For use as part of a treatment strategy for flea allergy dermatitis.
Roundworm
For the treatment of adult roundworm infections in dogs and cats, a single dose of Stronghold should be administered.
Hookworm (cats)
For the treatment of adult hookworm infections in cats, a single dose of Stronghold should be administered.
Biting Lice (cats and dogs)
For the treatment of biting lice infestations in cats and dogs, a single dose of Stronghold should be administered.
Sarcoptic Mange (dogs)
For the complete elimination of sarcoptic mange mites in dogs, a single dose of Stronghold should be administered for two consecutive months.
Ear mites (cats)
For the treatment of ear mites in cats, a single dose of Stronghold should be administered.
Ear mites (dogs)
A single dose of Stronghold should be administered. Loose debris should be gently removed from the external ear canal at each treatment. A further veterinary examination 30 days after treatment is recommended as some animals may require a second treatment.
Heartworm (cats and dogs)
For the prevention of heartworm disease in dogs and cats, Stronghold may be administered year round or at least within one month of the animal's first exposure to mosquitoes and monthly thereafter until the end of the mosquito season. The last dose should be given within one month of the last exposure to mosquitoes.
Each tube contains: SELAMECTIN
Spot-on use. Remove the Stronghold pipette from its protective package. Holding the pipette upright, firmly depress the cap to puncture the applicator seal, then remove the cap. Part the hair at the base of the animal's neck in front of the shoulder blades to expose a small area of skin. Apply the tip of the Stronghold pipette directly to the skin without massaging. Squeeze the pipette firmly to empty the contents in one spot. Avoid contact between Stronghold and fingers.
Contraindications, warnings
Do not use in animals under 6 weeks of age. Do not use in cats that are suffering from concomitant disease, or are debilitated and underweight.
This product is to be applied to the skin surface only. Do not administer orally or parenterally.
Do not apply when the animal's hair coat is wet. However, shampooing or soaking the animal 2 or more hours after treatment will not reduce the efficacy of Stronghold.
For ear mite treatment, do not aplly directly to the ear canal.
It is important to apply the dose as indicated to minimise the quantity that the animal can lick off. If significant licking does occur, a brief period of hypersalivation may rarely be observed in cats.
Keep treated animals away from fires and other sources of ignition for at least 30 minutes or until the hair coat is dry.
Do not allow treated animals to bathe in water courses until at least 2 hours after treatment.
Avoid direct contact with treated animals until the application area is dry. On the day of treatment, children must not handle treated animals and the animals should not be permitted to sleep with their owners, especially children. Used tubes should be disposed of immediately and not left within the sight or reach of children.
---
---
Stronghold for Cats & Dogs
Ratings & Reviews
Based on
11
Review(s)
Most Recent Reviews
Flea Control and Other Benefits
Written by
Tammy in Georgia
Jul 13, 2019
We have used the Stronghold flea control for our cat this past year and had excellent results. Our cat has not had any side effects from the product.
tyakeegan@gmail.com
Written by
Ty
Jul 01, 2019
I have ordered the generic or f Revolution for my dogs for several years. Their prices are soooo much cheaper than any other company or your Vets office. Vets don't like it when people order online cuz pet meds is 1 way where they make extra profit. And I don't have heart worm tests every year to get my dogs medications. Vets make alot of money With heartworm tests and meds. BY LAW you do not have to do heartworm tests but vets want you to think that. This is your vets way of their rules to make such a big profit. Joes Pet Meds are the same medications that vets have. I have never had any problems with any of my animals. You will save alot of money thru Joes Pet Meds. Their meds are the true stuff.
Best Ever!
Written by
Shannon Barr
Feb 16, 2019
this is the best for cats! been using it for years!
Revalution
Written by
Robert McKay
Nov 11, 2018
This is the best flea product on the market. It kills not only fleas, but their eggs, ear mites, and my cat scratches (due to allergies a lot less while on Revolution.
Effective Product to Protect Your Pet!
Written by
MikeInFlorida
Apr 17, 2017
This product is easy to use and is very effective at preventing flea infestation, heartworm and ear mites. I live in Central Florida, USA where the weather is never really cold enough to kill fleas, mites or mosquitoes so they are a year round problem for my cat. I have been using this product (selamectin) for years and my cat has never had fleas, ear mites or heartworm. Her vet recommends selamectin as the preferred product for cats and dogs in Florida. The product is easy to use and my cat has never had a reaction or any adverse problems related to this product. It works and it's easy to use. What more could you ask for?
Stronghold for cats and dogs
Written by
Marj
Apr 08, 2017
I have used this on and off. I often switch products because the fleas sometimes become resistant. I am using Stronghold again for both my cat and small dog. It is working for the fleas and has the added bonus of covering heartworms. Both pets don't mind when I put it on their necks. Some products seem to be more irritating. They also don't seem to have other side effects. My dog has problems with nausea with some of the oral products, but not with Stronghold. I buy Stronghold rather than Revolution because it is a little cheaper and it is the same product (UK vs AU).
Joe's Is The Best for Buying Your Pet Medications
Written by
Marie M from NY
Apr 04, 2017
I have been buying from Joe's Pet Meds for 4 years and have never had a problem with my order. Joe's is simply THE best for buying pet medications. I have also used Revolution / Stronghold for 4 years and I can honestly say that this medication has killed fleas on my three indoor/outdoor cats. I now have a new puppy and will be using Revolution / Stronghold on her as well.
Effective flea control
Written by
VA Woman
Feb 14, 2017
A good alternative to the brand name Revolution. Though both medications are a little pricey, they are well worth it in flea and parasite control.
Stronghold is fantastic
Written by
RonH
Jan 25, 2017
Stronghold kills fleas better than most other products we have tried, When others failed Stronghold did the job. We have 4 dogs, and a few cats, as long as we use the Stronghold, the fleas are gone, and we've seen no worms ever. I highly recommend it.
Excellant heartworm medicine
Written by
Donna
Nov 11, 2016
I have used Revolution (the US version) for my dogs since they were little puppies. They are now 10 and 12 years old and have had clean blood tests all their lives. An excellent product that is reliable and easy to use.