Joe's Pet Meds


Ratings & Reviews
Care To Give Us A Feedback?
Write a review here and let the world know what you think about our service, prices, product range or shipping.
If you would like to review a specific product then please search for the product you would like to review and place your review on that page instead.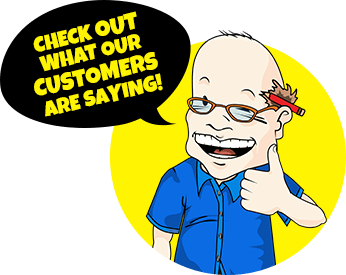 Generic Heartgard Plus (Ivermectin & Pyrantel)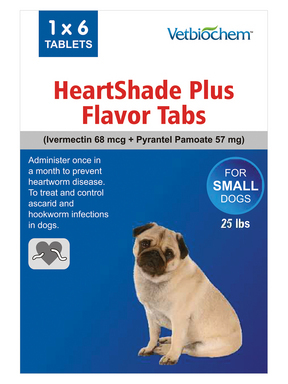 Generic Heartgard Plus (Ivermectin & Pyrantel)
For use in dogs to prevent canine heartworm disease
Eliminates the tissue stage of heartworm larvae (Dirofilaria immitis) for a month after infection
For the treatment and control of ascarids and hookworms
Safe in puppies of 6 weeks of age and older
Provides month long protection
Available as easy-chew tablets


Style Number: GENDMS-CONFIG
Product Detail: Generic Heartgard Plus (Ivermectin & Pyrantel)
INDICATIONS
For use in dogs to prevent canine heartworm disease by eliminating the tissue stage of heartworm larvae (Dirofilaria immitis) for a month (30 days) after infection and for the treatment and control of ascarids (Toxocara canis, Toxascaris leonina) and hookworms (Ancylostoma caninum, Uncinaria stenocephala, Ancylostoma braziliense).

DOSAGE
HeartShade Plus should be administered orally at monthly intervals at the recommended minimum dose level of 6 mcg of ivermectin per kilogram (2.72 mcg/lb) and 5 mg of pyrantel (as pamoate salt) per kg (2.27 mg/lb) of body weight. The recommended dosing schedule for prevention of canine heartworm disease and for the treatment and control of ascarids and hookworms is as follows:
Dog Weight  Tablets              Ivermectin          Pyrantel
(Kg)               Per Month          Content              Content
Upto 11                1                 68 mcg                    57 mg
12 to 22                1                136 mcg                114 mg
23 to 45                1                272 mcg                227 mg
HeartShade Plus is recommended for dogs 6 weeks of age and older.
For dogs over 100 lb (45kg) use the appropriate combination of these tablets.

ADMINISTRATION
Remove only one tablet at a time from the foil-backed blister card. Return the card with the remaining tablets to its box to protect the product from light. Because most dogs find HeartShade Plus palatable, the product can be offered to the dog by hand. Alternatively, it may be added intact to a small amount of dog food. Tablets may be broken into pieces and fed to dogs that normally swallow treats whole.
Care should be taken that the dog consumes the complete dose, and treated animals should be observed for a few minutes after administration to ensure that part of the dose is not lost or rejected. If it is suspected that any of the doses has been lost, re-dosing is recommended.
HeartShade Plus should be given at monthly intervals during the period of the year when mosquitoes (vectors), potentially carrying infective heartworm larvae, are active. The initial dose must be given within a month (30 days) after the dog's first exposure to mosquitoes. The final dose must be given within a month (30 days) after the dog's last exposure to mosquitoes.
When replacing another heartworm preventive product in a heartworm disease preventive program, the first dose of HeartShade Plus must be given within a month (30 days) of the last dose of the former medication.
If the interval between doses exceeds a month (30 days), the efficacy of ivermectin can be reduced. Therefore, for optimal performance, the chewable tablet must be given once a month on or about the same day of the month. If treatment is delayed, whether by a few days or many, immediate treatment with HeartShade Plus  and resumption of the recommended dosing regimen minimizes the opportunity for the development of adult heartworms.
Monthly treatment with HeartShade Plus also provides effective treatment and control of ascarids (T. canis, T. leonina) and hookworms (A. caninum, U. stenocephala, A. braziliense). Clients should be advised of measures to be taken to prevent reinfection with intestinal parasites.

EFFICACY
HeartShade Plus (ivermectin/pyrantel) Tablets, given orally using the recommended dose and regimen, are effective against the tissue larval stage of D. immitis for a month (30 days) after infection and, as a result, prevent the development of the adult stage.
HeartShade Plus Tablets are also effective against canine ascarids (T. canis, T. leonina) and hookworms (A. caninum, U. stenocephala, A. braziliense).

PRECAUTIONS
All dogs should be tested for existing heartworm infection before starting treatment with HeartShade Plus which is not effective against adult D. immitis. Infected dogs must be treated to remove adult heartworms and microfilariae before initiating a program with HeartShade Plus.
While some microfilariae may be killed by the ivermectin in HeartShade Plus at the recommended dose level, HeartShade Plus is not effective for microfilariae clearance. A mild hypersensitivity-type reaction, presumably due to dead or dying microfilariae and particularly involving a transient diarrhea, has been observed in reported clinical trials with ivermectin alone after treatment of some dogs that have circulating microfilariae.
Keep this and all drugs out of the reach of children. In case of ingestion by humans, clients should be advised to contact a physician immediately. Physicians may contact a Poison Control Center for advice concerning cases of ingestion by humans.
Store between 68 °F-77 °F (20°-25°C). Excursions between 59°F-86°F (15°-30°C) are permitted. Protect product from light.

ADVERSE REACTIONS
In reported clinical field trials with HeartShade Plus, vomiting or diarrhea within 24 hours of dosing was rarely observed (1.1% of administered doses). The following adverse reactions have been reported following the use of HeartShade Plus: Depression/lethargy, vomiting, anorexia, diarrhea, mydriasis, ataxia, staggering, convulsions and hypersalivation.

SAFETY
Reported studies with ivermectin indicate that certain dogs of the Collie breed are more sensitive to the effects of ivermectin administered at elevated dose levels (more than 16 times the target use level) than dogs of other breeds. At elevated doses, sensitive dogs showed adverse reactions which included mydriasis, depression, ataxia, tremors, drooling, paresis, recumbency, excitability, stupor, coma and death. HeartShade Plus demonstrated no signs of toxicity at 10 times the recommended dose (60 mcg/kg) in sensitive Collies.
Results of these trials and reported bioequivalence studies support the safety of HeartShade Plus products in dogs, including Collies, when used as recommended.
HeartShade Plus has shown a wide margin of safety at the recommended dose level in dogs, including pregnant or breeding bitches, stud dogs and puppies aged 6 or more weeks. In clinical trials, many commonly used flea collars, dips, shampoos, anthelmintics, antibiotics, vaccines and steroid preparations have been administered with HeartShade Plus in a heartworm disease preventing program.
In one trial, where some pups had parvovirus, there was a marginal reduction in efficacy against intestinal nematodes, possibly due to a change in intestinal transit time.

How Supplied: HeartShade Plus is available in three dosage strengths (See DOSAGE section) for dogs of different weights. Each strength comes in convenient cartons of  6 Chewable Tablets.
---
---
Generic Heartgard Plus (Ivermectin & Pyrantel)
Ratings & Reviews
Based on
128
Review(s)
Most Recent Reviews
Best price and works well!
Written by
Al
Nov 29, 2020
I hesitated to go generic. I doubted the dogs would find a pull palatable. To my surprise they gobbled it up like a treat! Thanks to Joes pet meds I can save money and still take good care of my dog!
Super happy
Written by
Michelle
Aug 10, 2019
Great product. Fast shipping and a great deal. Love joes pet meds!
Great product save money
Written by
Martha
Jul 21, 2019
This is a great product and I save money too.
Great Product
Written by
Rachel Robertson
Jul 08, 2019
My dogs are 9 years old now and we've been using this product for at least 6+ years. Great product.
Heartshade Plus
Written by
Mike Shapiro
Jun 10, 2019
This is the 3rd order of Heartshade Plus I have made from Joe's and my dogs are happy and worm free at a fraction of the cost from anywhere else in the world! And I have googled the heck out of Google looking for a better price and none could be found. And the meds I have gotten from Joe's have never gotten my dogs sick and when they go for their yearly shots they have never had any worms and of course no heartworm. And living in South Florida during the rainy season (call it Hurricane season) there are more mosquitoes then I care to see but Heartshade has done its work. Thanks for a great product at a terrific price.
GREAT PRODUCT
Written by
JIM
May 07, 2019
5 STAR GREAT PRODUCT GREAT COMPANY
HeartShade Plus
Written by
Deb
Apr 11, 2019
This product is great! My dogs have used it for the past two years and they are always negative when vet checked for heartworm. My vet was skeptical about the product but I did show her the package and she agreed the ingredients are the same as Heartguard! Don't hesitate to purchase this product, it works!
HEARTGARD
Written by
TIGGER
Mar 31, 2019
Love Joe"s Pet Meds. They have good products and are very timely with delivery.
heartworm
Written by
BR
Jan 30, 2019
I can't believe the savings I get for the same thing that I used to buy from the vet-Thanks
reynoldsjar@aol.com
Written by
Jackie Reynolds
Nov 17, 2018
Joe's was recommended to me by the shelter we got our little Rusty from. The pills for the Generic Heartguard Plus is really easy to give Rusty. They crush easily and I sprinkle in his food. I am purchasing the again and definitely recommend them! This does not take the place of getting your babies checked!